2011 Highlands New Jersey Saint Patrick's Day Parade














Saturday, March 19th, 2011 at 2:00 PM rain or shine!

All Saint Patrick's Day Parades in New Jersey
The Highlands Business Partnership will paint the town green on Saturday, March 19th, 2:00 PM, when more than 100 marching units, including bagpipers, marching bands and floats, line up to march in the Seventh Annual St. Patrick's Parade and Celebration.

The parade will begin at Huddy Park, with hundreds scheduled to march along a one-mile stretch of Bay Avenue in the Highlands business district. The Highlands Business Partnership will host the "Competition of Floats"; all of the Businesses and/or Organizations in Highlands will be competing in three (3) categories; "Best of Show", "Prettiest" and the "Most Original". A trophy will be awarded to the winners. The floats will be judged at check-in. The leading float will be the Highlands Water Taxi carrying HBP members, friends and families.

The parade will feature entertainers along with many marchers representing the military, including the Color Guard. Political, civic, church, environmental and community organizations represented will include County Freeholders, members of local American Legion and VFW posts, fire companies, first aid and rescue units, the Highlands Recreation, and the Lakewood Blue Claws with "Buster", the baseball team's mascot. The Henry Hudson Regional Marching Band and Cheerleaders will be performing.
The Parade entertainment will include the Monmouth County Police Pipes and Drums, the Lia Fail Pipes and Drums of Mercer County, the Trenton Ancient Order of Hibernians, the Middlesex County Police and Fire Pipes and Drums, St. Brendan the Navigator Pipes and Drums, Pipes & Drums of the Blue & Gold, the Greater Trenton Pipes and Drums Band, the Union County Police and Fire Pipes and Drums, and the Friendly Sons of the Shillelagh Bagpipe Band.

"Be on the lookout for the all of the festive floats which will be throwing many goodies to the crowds," said Carla Cefalo-Braswell, president of the Highlands Business Partnership. "This parade is shaping up to be pretty big, and if the weather's good, we should get a huge turnout".

Green balloons and bows will decorate participating businesses along the line of march, and a VIP grandstand for dignitaries, Borough officials and their families will be located in front of Borough Hall at 171 Bay Avenue for the marchers and bands to make a brief stop. Pastor Marty McGrail of the New Life Christian Church will emcee the Parade at the Grand Viewing Stand.

Members of the Highlands Garden Club will be selling green carnations to spectators along the parade route, and parade-goers can be sure to receive many free giveaways thrown from the many floats competing in the parade. If you have not had enough pipes and drums, be sure to visit one of Highlands' twenty restaurants where a band will be performing.
HIGHLANDS ST. PATRICK'S PARADE PROMISES GREAT DAY TO BE IRISH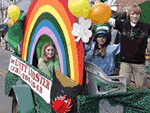 HIGHLANDS, NJ –

The Borough will become "Glocca Morra on the Bay" on Saturday, March 19th, 2:00 PM, with more than 100 marching units, including bagpipers, marching bands and floats, lined up to march in the Highlands Business Partnership's Sixth Annual St. Patrick's Parade and Celebration.

This one-of-a-kind restaurant, with the Manhattan skyline sparkling across Sandy Hook Bay, has been awarded countless prestigious dining awards, reviews, national recognition and feature television segments. Doris & Ed's resides in a tastefully restored 100-year-old bayside inn. The inn was a nineteenth century rest-over for fishing boat captains, Coast Guard brass, Honeymooners and Clammers. The Highlands Business Partnership is proud to have a longstanding, (30 years) business owner serve as our 2008 Grand Marshal.

The parade will begin at Huddy Park, with hundreds scheduled to march along a one-mile stretch of Bay Avenue in the Highlands business district. The Highlands Business Partnership will host the "Competition of Floats"; all of the Businesses and/or Organizations in Highlands will be competing in three (3) categories; "Best of Show", "Prettiest" and the "Most Original". A trophy will be awarded to the winners. The floats will be judged at check-in. The leading float will be the Highlands Water Taxi carrying HBP members, friends and families.

The parade will feature entertainers along with many marchers representing the military, including the Color Guard. Political, civic, church, environmental and community organizations represented will include County Freeholders, members of local American Legion and VFW posts, fire companies, first aid and rescue units, the Highlands Recreation, and the Lakewood Blue Claws with "Buster", the baseball team's mascot. The Henry Hudson Regional Marching Band and Cheerleaders will be performing.

There will be a special guest appearance by Miss New Jersey Princess, Miss Ava Tortorici. Ava, daughter of Mary Saint-Pierre and Carmelo "Mel" Tortorici of Jackson, New Jersey, was crowned Miss New Jersey Princess Queen at the State Pageant in August for the National American Miss Organization for 2007 –

The Parade entertainment will include the Monmouth County Police Pipes and Drums, the Lia Fail Pipes and Drums of Mercer County, the Trenton Ancient Order of Hibernians, the Middlesex County Police and Fire Pipes and Drums, St. Brendan the Navigator Pipes and Drums, Pipes & Drums of the Blue & Gold, the Greater Trenton Pipes and Drums Band, the Union County Police and Fire Pipes and Drums, and the Friendly Sons of the Shillelagh Bagpipe Band.

"Be on the lookout for the all of the festive floats which will be throwing many goodies to the crowds," said Carla Cefalo-Braswell, president of the Highlands

Business Partnership. "This parade is shaping up to be pretty big, and if the weather's good, we should get a huge turnout".

Green balloons and bows will decorate participating businesses along the line of march, and a VIP grandstand for dignitaries, Borough officials and their families will be located in front of Borough Hall at 171 Bay Avenue for the marchers and bands to make a brief stop. Pastor Marty McGrail of the New Life Christian Church will emcee the Parade at the Grand Viewing Stand.

Members of the Highlands Garden Club will be selling green carnations to spectators along the parade route, and parade-goers can be sure to receive many free giveaways thrown from the many floats competing in the parade. If you have not had enough pipes and drums, be sure to visit one of Highlands' twenty restaurants where a band will be performing.

The Highlands Business Partnership is a commercial alliance dedicated to the continued revitalization of Highlands, as well as preserving the area's historic past. This parade is made possible by the Highlands Business Partnership's generous sponsors, Comcast, Seastreak, Frank Rahm Landscaping, Hufnagel Tree Experts, and Foodtown/Food Circus. For additional information visit

www.highlandsnj.com <

http://www.highlandsnj.com> or call 732.291.4713.

Click Here to see photos of St. Patrick's Day in Highlands

Click Here to see photos of St. Patrick's Day in Highlands